You came to our site because you are looking for a professionally designed website... Welcome!
So let's cut to the chase. You want a professional presence on the Internet that won't cost you a fortune and that can be completed in the shortest possible time frame. Awebpage can help by providing you with a turn key, professionally built web site. Whether it's site design, custom web based graphics, or Hosting... we do it all for one FLAT FEE. And if you want your existing site updated... we can do that as well for one flat fee. Couple all of this with a solid 16 year reputation on the Internet, 5 days a week support and maintenance, and you get it all for a very reasonable cost.

What's the cost? Click this link or the graphic and a cost calculator will pop up to give you an idea. Simple to use... just enter your choices and click outside the box and you will get the ACTUAL cost of your site.
Get Started "Now" With Our Unique Sample Web Page Program
Unlike many of the web page designer sites you have visited you will find that Awebpage.com offers something that the rest do not... we will custom design a "Sample Web Page" on your business at no cost or obligation!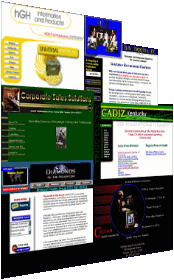 This sample web page is unique to your particular business... we never use "templates" or canned graphics... all of our sample web pages are original work. We will lay out the design elements of what we think you are looking for and upload it to our server to be accessed via the Internet where you can view it in real time. This method will be used throughout the design phase so you can monitor the progress being made at any time. And if you like what we have done then we all work together to change, modify the design to your specific requirements.
Obtaining your custom sample web page is easy... just fill out the information we need about your business and click submit. Your information "will not" be sold or distributed to anyone.
See our Privacy Policy.
Within 3 to 5 business days we will have a sample page put together for you to see. If you would like to have us incorporate some of your own pictures or graphics you can email them to us. Just be sure that they are in either a .GIF, PNG or .JPG format (please do not send .BMP files).
If you have seen a particular web site that suits your requirements then provide the web site address and we will emulate (not copy) the layout you are looking for.
This is a no obligation offer to business and professionals in the U.S. and Canada... you only pay our fees if Awebpage.com is selected as your web site designer. We accept payment in either business/personal checks or Visa / Mastercard / American Express/Discover Card