I Do Website Design, and Site Maintenance...
If you just started looking for a web designer in your local area or on a regional level you will see that there are hundreds offering web design and maintenance services. Their services can range from boilerplate websites that everyone has, to full multimedia e-commerce sites with streaming music and video. Your options are endless... but what you will need in particular is a website designer that can build a custom site that is eye catching graphically, is easily navigated for your customers to browse through, and can be done at a very reasonable cost. Awebpage can do this for one "fixed price".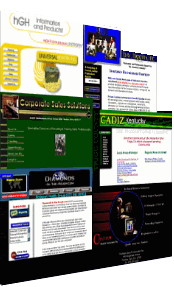 I keep it simple -Your website does not have to be entirely graphic based or overcrowded with information. If you Include too much textual information it will be boring and will overwhelm your visitors. The most effective website design addresses only the necessary information and then provides links to contact and supplemental information. We use roll-over and drop down menus similar to the menu bar you see at the top of our site to "hide" more information.


I use Images - Today's online business owners and consumers are highly visual. Ideally, your product should be photographed by a professional and the images should be placed on your site for the visual appeal people are attracted to. And there should be correlating text that provides enough detail but does not overwhelm your visitors. If you cannot have this done professionally there are many sites that offer royalty free images that might fit your needs. Awebpage can provide these.
It's important to remember that your website is a direct reflection of your company and product. If a potential customer is comparing your company to your competitor, they may go with the company with a more appealing website.